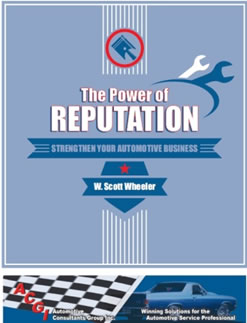 There is a direct linkage between behavior to perception to action. This means that "doing the right thing" is also "the right thing to do for business." With perhaps the exception of a lawyer, nowhere could this be more true than in the service industries. Certainly in automotive service and repair. There is a direct correlation between perceptions – those met, not met, or exceeded – and the bottom line. Data consistently shows reputation and meeting expectations are key.
All of these things are possible when you have a positive reputation. It becomes a major determining factor in choices made when people choose to do business with your shop. More often than not, your good reputation is one of the main reasons they choose to do business with you.
Your job, then, as an automotive service and repair professional is to create a reality of service based on values, how to communicate those values, and how to build relationships based on trust.
Course Overview:
Reputation is your most valuable asset
The value of personal character
An era of shortcomings and failure
What values do you possess?
What you gain through a good reputation
The strength of your team starts with you
Ethical selling
A new era of digital reputation and how to manage it
Handling on-line complaints
Social media explained
AAA has their finger on the pulse of the motoring public
Service Writer email scripts – how to collect email addresses
Text messaging
Intended Audience:
Collision and mechanical business owners, operators, and service management.
Presentation Materials:
Power Point presentation, video, full-color workbook.
Course Length:
3 hours. Can be modified to fit particular time slots.