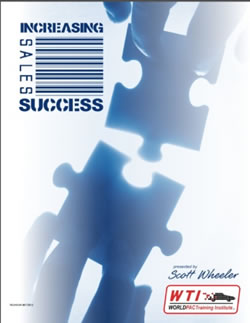 You've worked years to be successful in the automotive repair business. You run a tight organization, with a solid effective labor rate and good numbers, but you know something is off. Discover why you should revisit your foundation, learn effective techniques to better understand today's customer, and learn how to provide a solid sales proposal in a consultative manner that your customers crave. Then take an in-depth look at how that translates to an increase in mutual trust, respect and confidence…resulting in greater customer satisfaction, higher rate of return, and increased sales. It all starts with you.
Course Overview:
Building a solid Foundation
Increasing Trust and Confidence with your customers
Understanding Your Customer
Estimating for Success
Soft Selling
Creating a Loyal Customer
Controlling the Sales Presentation
Getting them to Return
Intended Audience:
Collision and mechanical business owners, operators, and service management.
Presentation Materials:
Power Point presentation, video, full-color workbook.
Course Length:
3 hours. Can be customized to fit particular time slots.