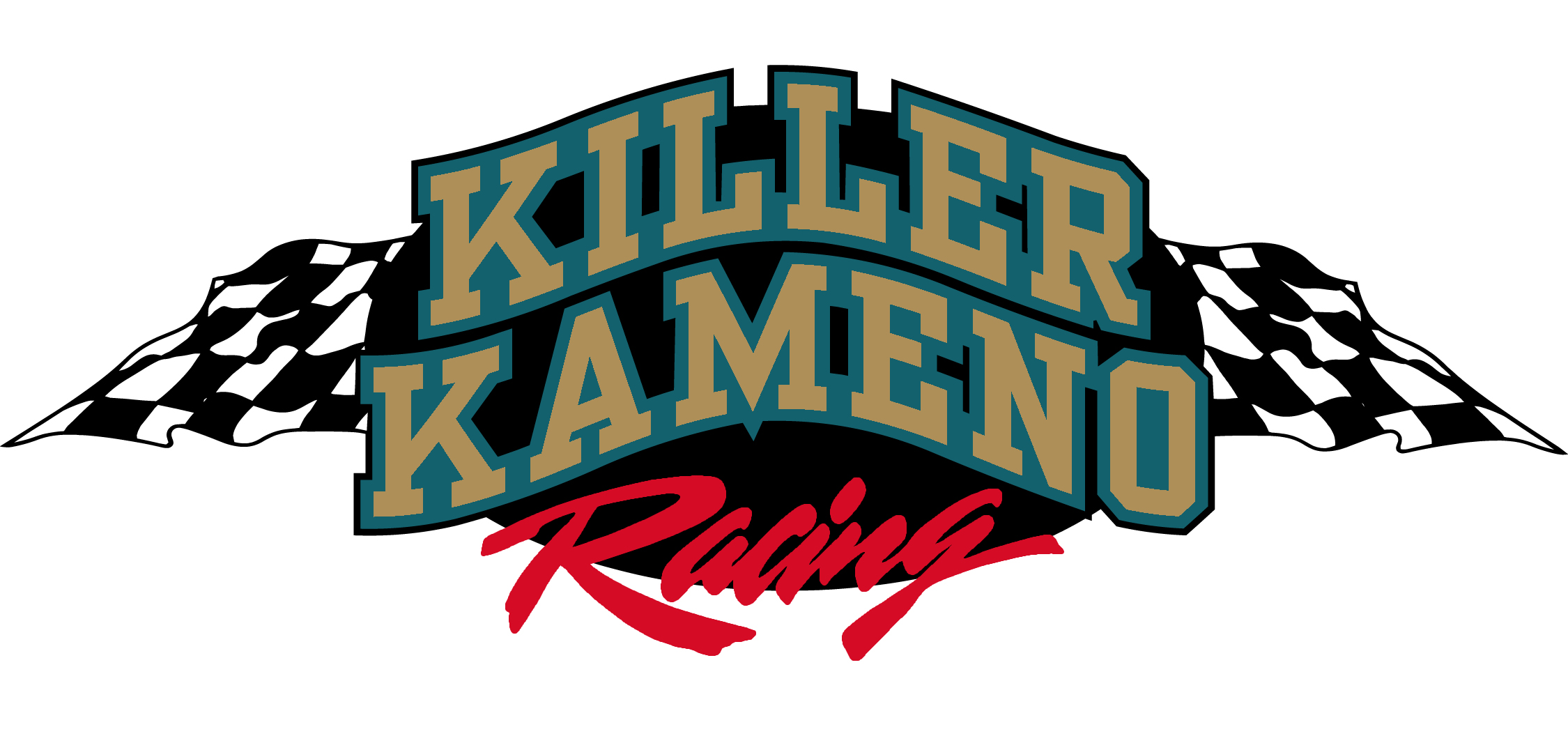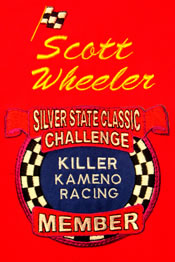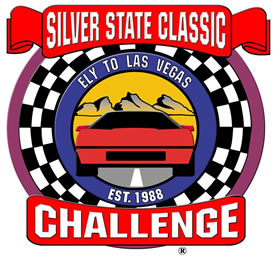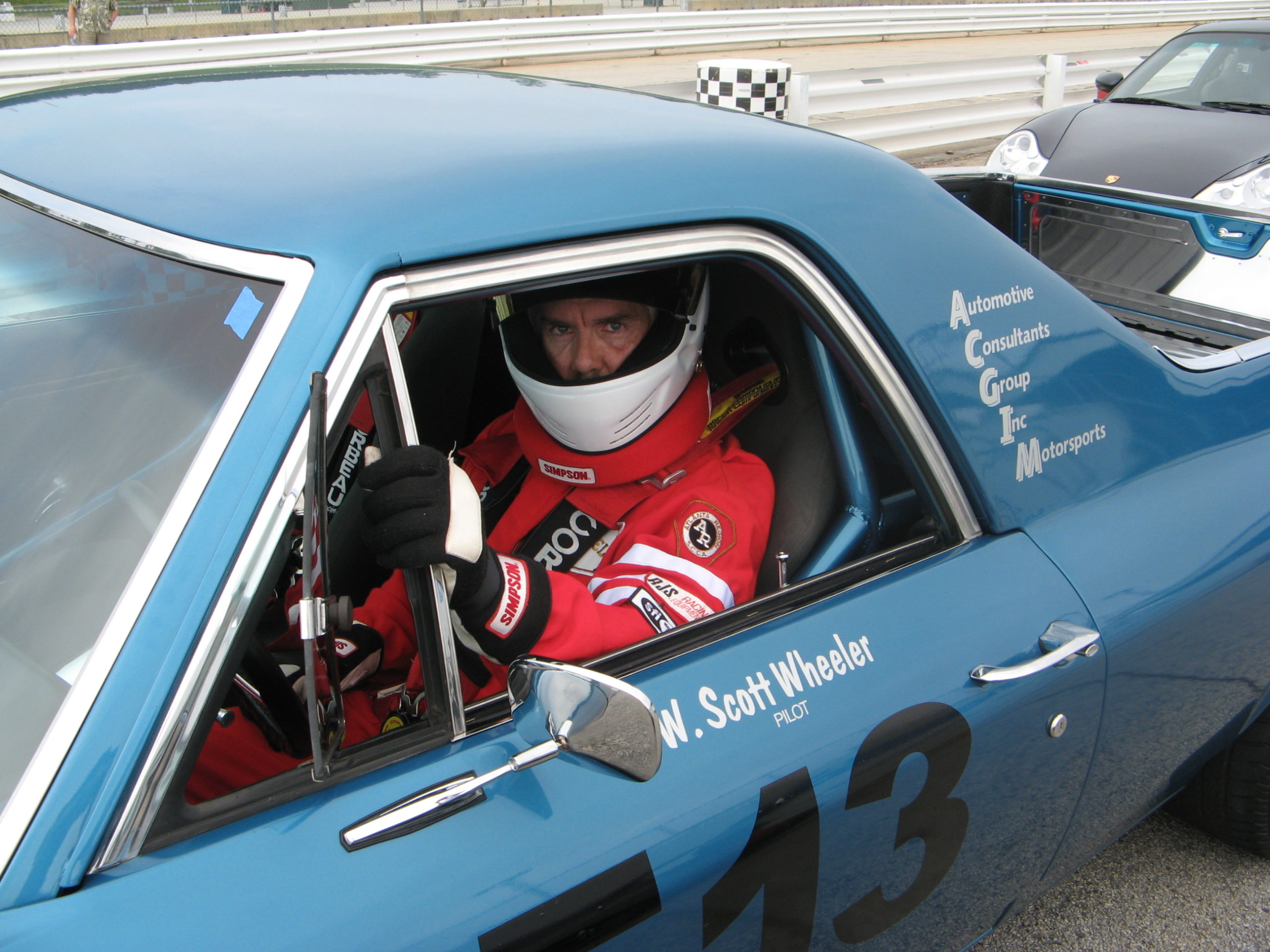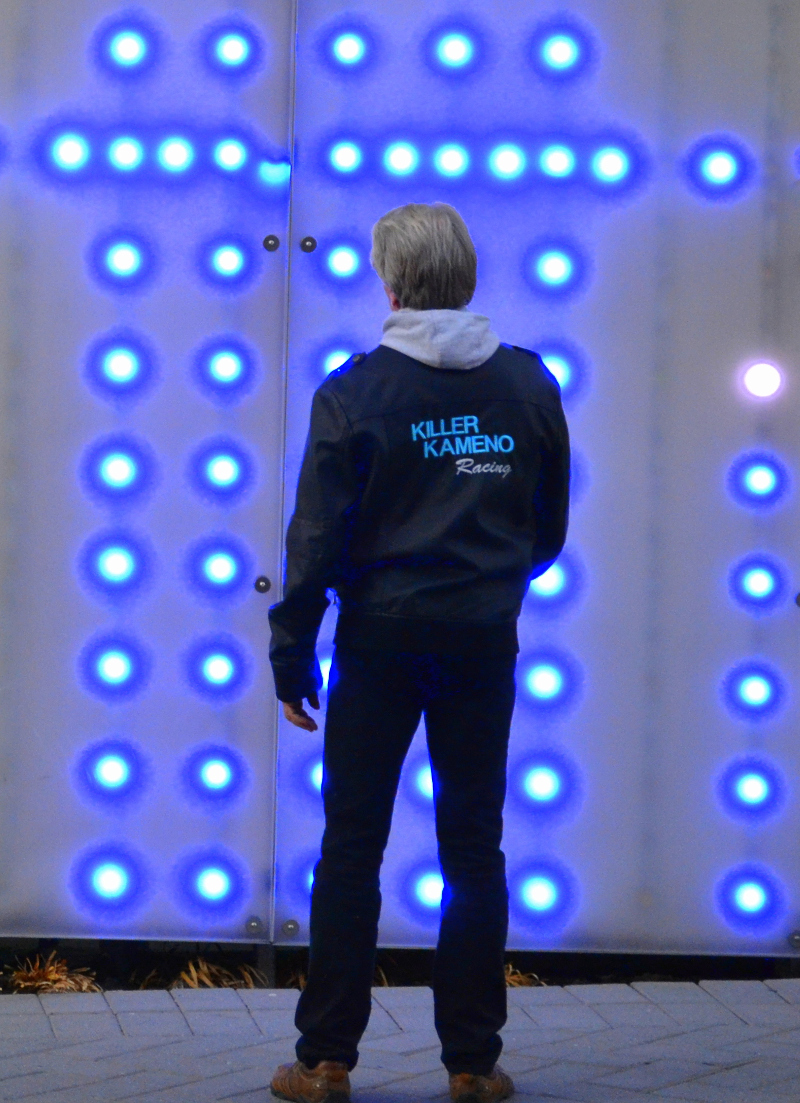 DRIVER:
W. Scott Wheeler

Atlanta, Georgia

PROFESSION: President, Automotive Consultants Group, Inc.

NAVIGATOR:
Looking for Navigator, Applications Open
MAKE:
Chevrolet
MODEL:
El Camino
YEAR:
1972
COLOR:
Blue & Silver
SPONSORS:
Tires Plus Hamilton Mill
Automotive Consultants Group, Inc., (ACGI) Atlanta, Georgia
Accessible Technologies, Inc. Prochargers
Hotchkiss Performance (suspensions)
Baer Racing, Inc. (brake systems)
AGR Power Steering
Rachet + Wrench
SSCC EVENTS COMPLETED: TWO (one in a Hertz rental Cadillac, the other in an Enterprise rental Mustang)
CAR DESCRIPTION & HISTORY:
This car has been owned by Scott since 1984, and was used as a daily driver during college. It has morphed into its present status as an eclectic blend of Hot Rod, Road Racer, Drag Car, Show Car, Restoration, and Work Truck during all these years. And, on occasion, a grocery-getter (fast food…)
TECHNICAL SPECS
SUCK…
Intake Manifold — Eldelbrock Victor JR. single plane with 1" spacer
Holley Ultra HP 750 cfm carb
– 5.5 power valves
– #31 squirters, primary & secondary
– 9" vacuum
Fuel Pressure Regulator, Aeromotive, with return
Fuel Pump — Aeromotive
Air filter – K&N
SQUEEZE…
Block – Dart SHP, new
– Stroke – 4.00 inch
– Bore – 4.125 inch
– Displacement – 427 CI
– Pistons – Icon Performance forged
– Rods – Eagle 4340 H-beam
– Crankshaft – Eagle 4340 forged internally balanced
– Compression Ration – 9.8:1
– Head Gaskets – Cometic .040 compressed thickness
– Harmonic Balancer – Professional Products internal balance, 6.750" steel
– ARP SS head bolts, 7/16" dia.
Camshaft – Howards Cams, Flat tappet lifters, 2800-6800 rpm
– Intake: .530 lift, 287 degrees duration, lash set to .022 hot (.024 cold)
– Exhaust: .535 lift, 291 duration
– Lobe center: 110, centerline 106
– HP Cam Bearings
Valve Train – ARP 3/8" studs
Push Rods — Comp Cams chromoly 5/16" dia. .080 wall thickness, 7.8" length
Double roller timing chain, Comp Cams, steel gears
Cloyes adjustable cam button
Rocker Arms — Comp Cams Ultra Pro Magnum Rockers 1.52:1 ratio
Rocker Arm Nuts — ARP Perma Loc 3/8"
Heads – Dart Pro 1 Aluminum, 200 cc intake runners, 2.02/1.60 SS valves, square exhaust port, Compression chamber – 64cc


BANG…

Spark plugs – Autolite Racing, AR3933 set to .040 gap
Distributor – Summit Racing distributor, advance mechanism removed and locked out
MSD-6AL-2 — total advance set at 30 degrees, cranking advance -10 degrees, full advance at 2000 RPM, rev limiter set at 6200 rpm
Ignition wires — Moroso
Oil Pan & gasket – Pan is Canton Racing, one-piece gasket
Starter – Mezeire TS100

BLOW…

Hooker headers, full length 1-3/4" primary tube; flex collectors
Dynomax 3" SS dual exhaust with cross-over tube

TRANSMISSION

TH400 with full reverse manual valve body, clutch pack ATI
Converter – B & M 10" 2800-3000 stall with anti-balloon plates
Shifter – B & M Prostick with reverse lock-out, reverse pattern shifter gate
B & M Pan, aluminum deep

DIFFERENTIAL

Reider Racing Auburn differential, 2:73 gear Positrac, Strange axles w/ C-clip eliminators, Strange carrier bearing supports, screw in wheel studs

CHASSIS/BODY MODS

Fully restored body, Sherwin Williams base & clear, custom fabricated front bed
4″ fiberglass cowl hood, East Coast Customs
YEAR ONE & OPG supplied all restoration pieces
Adjustable rear-mounted radiator, Be Cool, located behind rear axle, with polished aluminum shroud. Twin 12″ electric fans, Perma-Cool
Custom fabricated dash, cockpit ceiling-mounted electronics console, lower gauge console and a lot of other neat stuff
Numerous other custom sheet metal pieces

SAFETY

Six-point roll cage
Five-point safety harness, RCI, w/ camlocks
Halon Fire Suppression system & dry chemical fire extinguisher
20-gallon Triangle Engineering fuel cell with roll-over valve

STEERING & SUSPENSION

Hotchkiss Performance suspension, front and rear, utilizing tubular A-arms, dropped progressive rate springs, roll-bars front & rear, and boxed adjustable rear trailing arms
Bilstein shocks
AGR close-ratio steering gear box with circle track style pump & remote reservoir
GM B-body front spindles

BRAKE SYSTEM

4-wheel racing discs, Baer Racing Track discs, 13″ rotors front, 12″ disc rear, all calipers are 2-piston, adjustable proportioning valve & line lock. Double-stack power booster with modified master cylinder. Original GM emergency brake system modified with rear discs
CVR ELECTRIC vacuum pump, pulls 20" of vacuum. Auto cut-off when max vacuum is attained.

WHEELS & TIRES

Front: custom built 3-piece billet modular race wheels, 17 x10 w/ Michelin Pilot 285/40ZR 17
Rear: custom built, 3-piece billet modular race wheels, 17 x 11.5 w/ Michelin Pilot 315/35ZR 17

OTHER

Autometer Phantom gauges reside in custom built dash and lower gauge console
Corbeau Racing seats, pneumatic lumbars
Car still has factory A/C & heating system.

DRIVING EXPERIENCE / SCHOOLS

Silver State Classic Challenge, May 2001
Silver State Classic Challenge, September 2000
Road Atlanta Track Days & instruction, 5/00 & 7/00
Brands Hatch America, Driving Analysis & Instruction May 21, 1989
SCCA Corner worker 4-years (watched a lot of other people make mistakes…)

DRIVING AWARDS / EXPERIENCE / BRAGS / AMUSING ANECDOTE

Recipient of over 36 traffic citations (none serious, really…)
Have assisted various State/County/City DOT programs to repave & repair roads via monetary restitution (aka "fines")
Have gotten airborne while driving more times than I can remember
Have burned down two cars, crashed a Plymouth Road Runner, Porsche 914, 1970 Dodge Challenger, and walked away from a 100-mph head-on collision in a Cadillac Eldorado. Numerous other incidents too embarrassing to discuss.
Regularly drive in Atlanta, Georgia rush hour traffic without a helmet!