How to Fall in Love with Your Auto Repair Business Again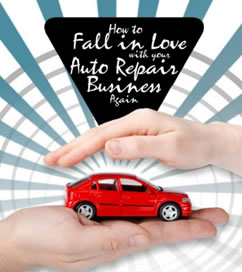 Life is a Trip
Ten Simple Truths
The Rule is Simple – You Begin with the End in Mind
Where Will You Be in Five Years?
What is it We Really Want?
Bob's Garage
Do You Have the Right Attitude to Affect Change?
Bob's Garage Goal Planning
The Change Triangle
Developing a Success-Oriented Attitude
Business Calculator
The Four Pillars of Positive Behavior
Life's Lessons
Effective Communication Skills in Your Shop
Why Timing Belts Need Replacement
Communication is an Art
Beating a Dead Horse
Bob's Garage Income Statement Showing Variance Dollars
Life is a Trip
Intended Audience:
Collision and mechanical business owners, operators, and service management.
Presentation Materials:
Power Point presentation, video, full-color workbook.
Course Length:
3 hours. Can be customized to fit particular time slots.