Profit and Loss Management Solutions
For the Automotive Service Industry
Call for a free consultation now at 866-279-9972 or reach us via our contact page.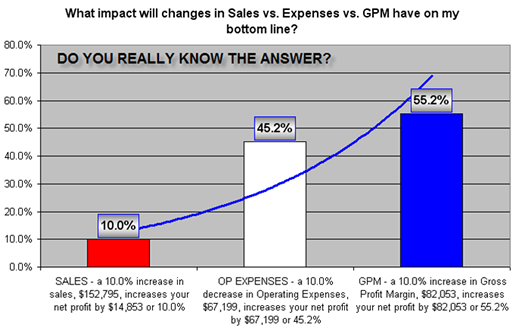 Our goal is simple: To assist you, the Automotive Service Repair Professional, with an objective overview of exactly where you are in your business. We can provide you with a "map" of where you are by conducting an in-depth analysis of your current operating practices. Listening carefully to you, your goals and objectives, we can provide a clear & concise plan of action, which will enable you to reach your next level in business & gross sales.
Our objective is for you to quickly recover the monies you've wisely invested in this coaching process. And remember this — like any solid investment, you will be repaid many times over!
We have automotive service business and technical expertise in:
Marketing • Financial Analysis • Customer Service
Business Planning • Customer Satisfaction Surveys • Operations
Management • Software & Systems • Regulatory Compliance
Current consulting engagements in:
Kansas City, MO, Plano, Texas, Los Angeles, Ventura, Santa Monica, Norfolk, VA, Washington, D.C.,
Orlando, FL, Denver, CO, Phoenix, AZ, Atlanta, GA, New York City, Santa Barbara, CA, St. Petersburg, FL, Victoria, BC, Canada
We're Highly Experienced…

 WE KNOW YOUR INDUSTRY!

36-Years – Automotive, Trucking, Heavy Equipment, Marine & Motorsports, Defense/Aerospace Industry Experience

 WE UNDERSTAND YOUR BUSINESS!

6,627 – Automotive Repair Centers We Have Personally Visited

 WE UNDERSTAND PROFITS!

783+ MILLION DOLLARS – Profit & Loss Statements Reviewed/td>


 WE UNDERSTAND TEAM BUILDING!

803 – Employees reviewed

 WE UNDERSTAND REPAIR ORDERS!

2.1M+ – Repair Orders audited

 WE UNDERSTAND SHOP EQUIPMENT!

$3,768,225 — Automotive Equipment We've Sold

 WE UNDERSTAND SOFTWARE & PCS

276 – Computer Management Systems Installed & Trained

 WE'RE STILL SHOP OPERATORS!

2000 + hours of actual shop operations management each year

 WE'RE CONNECTED IN THIS INDUSTRY!

65,000 – Database records for Automotive Repair Centers
We've become recognized as leading Automotive and Truck industry professionals…

We speak professionally…

…to business owners and professionals throughout North America at such events as ASRW, ASA VISION, AUTOMECHANIKA, and WORLDPAC

We regularly write articles…

…for the leading automotive industry publications such as Auto Inc., Ratchet + Wrench, Canadian Tire, and Motor Age

We teach professionally…

Our courses are AMI Certified
Why Should You Consider Using ACGI?

Scott Wheeler
President, ACGI

We have the distinct advantage of knowing EXACTLY how to fix your automotive repair shops' deficiencies because we understand everything you do & why!
We understand cars and hold numerous credentials including dual ASE Master Tech, Automobiles and Medium/Heavy Truck, and Service Consultant
We understand what marketing programs work and don't work today
We understand the total repair process in the greatest of detail
We understand your customer and his or her vehicle concerns
We understand what the customer is looking for in the selection criteria for repair of his or her automobile
We understand what is involved in the actual interpretation of the customer's complaint or reason for service, the Service Consultants translation, and proper shop diagnosis of this complaint – from both human relations as well as technical viewpoints
We understand the unique selling environment that exists between the repair shop and the customer
We understand what constitutes a quality repair that will satisfy this customer and help them to return for future service
We understand how all of these things will affect your profitability, shop reputation, and peace of mind
And finally, we use in-house custom designed software based upon all of these criteria, combined with practical strategies that are reality-based, to determine what the priorities are to get you to your goals quickly
What ACGI Customers Say