Contact us for pricing on the Human Resources Package
NOTE: We do not have set pricing for this package, as most of the documents have to be customized to your particular business. We can add your logo, hours/days of operation, and in the case of the Employee Handbook, many other changes as well, such as smoking and cell phone use policies. This will personalize the documents to your particular business. Please contact us for full details. We require a deposit to begin, and work through to your complete satisfaction. You will receive the files electronically for your future use and modification. Delivery is typically 1 week.
Human Resources Package Designed for the Automotive Repair Professional
---
This package is complete and all inclusive to assist you in the management of your most valuable resource – your people. Your business will only run as well as the greatest skill set within your operation as well as the talent you attract and develop within your people. Knowing how to, advertise, interview, attract and retain key talent will be greatly enhanced by using our proven system contained in this collection of A–to-Z documents, custom forms, interview questions, back ground checks, and legally required documents to satisfy State & Federal Departments of Labor. This package is the most highly requested assistance we provide to our clients in the automotive repair and service industry.
Your complete package shadows the logical progression from placing the ad for your prospective candidate, to the various stages of interviewing, through calculating cost and margin, the actual process of bringing them in, through their life as your employee, and concluding with their inevitable exit.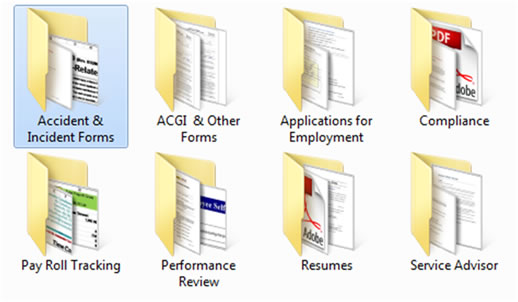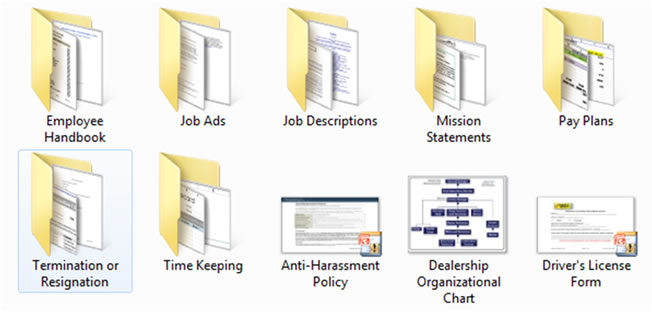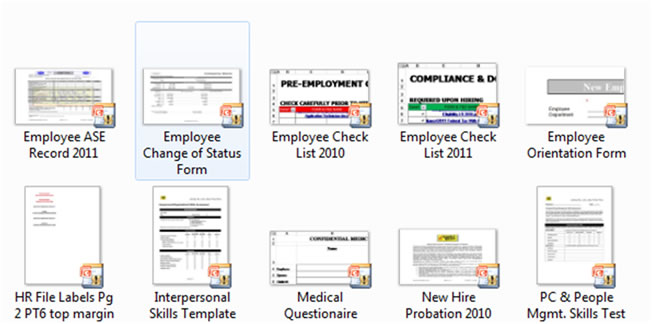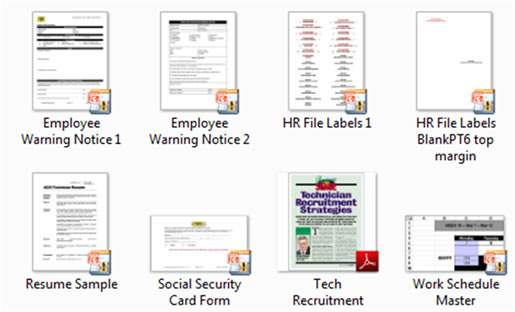 Mission Statements
---
If you Google 'Mission Statements', you'll come across a tremendous volume of information preaching the sound but imperative logic associated with taking the time to answer one basic question – "Why are we here?" If you don't have a mission statement or haven't written one, now is the time to develop one. Done properly, they can be a challenge to create.
Let ACGI assist you in writing your personalized Mission Statement, which is the bedrock philosophy your company should be operating from.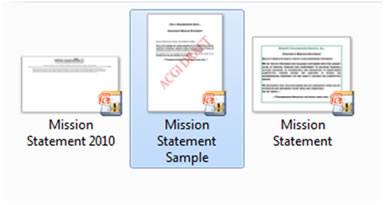 Job Descriptions
---
What, exactly, are the duties and responsibilities of this employee vs. that employee? It's a common shame that employees are held to standards they've never been made aware of. We've analyzed exactly what each employee should contribute to the big picture. Often times, due to overlapping responsibilities, confusion can result and overall performance suffers. This inevitably shows up as loss revenue, reduced profits, and possibly unhappy customers.
If you don't see the position job description listed here, please contact us at 866-279-9972 and we'll be happen to design one for you.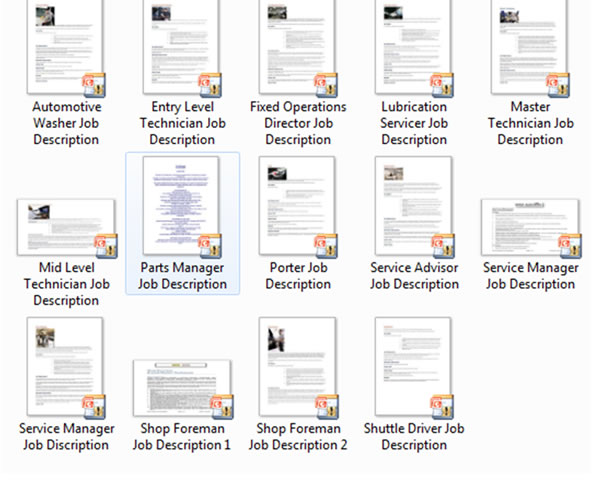 Service Advisor Job Descriptions, Qualifications, & Measurement
---
When you think about it, the Service Advisor is likely the most important person in your business arsenal. The simple reason is because he/she is responsible for all communication, sales, and problem resolution with the paying customer. Therefore, their duties, responsibilities, performance measurement, and pay plans should be vastly different than other positions within your automotive repair center.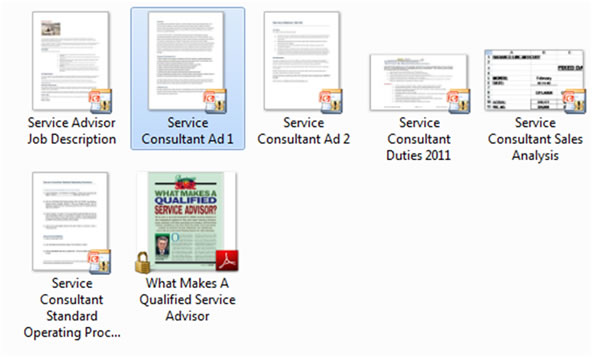 Technician & Other Employee Job Ads
---
Admit it. You've seen the crummy ads just like we have! Always remember that advertising for a prospective candidate is, at its' core, marketing your shop. The existing shortage of Technician and other critical Service Repair Center personnel creates high demand. This will force you to rise above the fray, and capture the attention of key talent that'll help you to soar towards greater profits and customer satisfaction.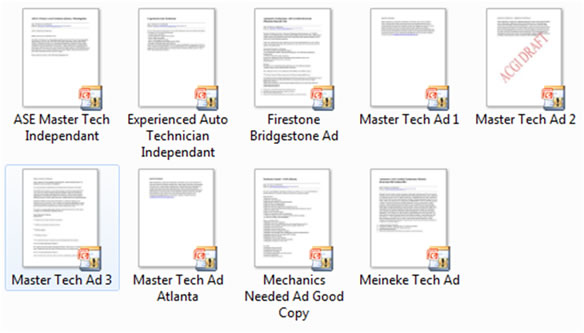 Employee Applications
---
These forms are specifically designed to ask your prospective Technician, Parts Driver, Service Consultant, or Service Manager the right questions at the right times during the interviewing stages. How many times have your hired someone only to say later "yeah, I forgot to ask that question" or "I wish I had known that before I brought him in"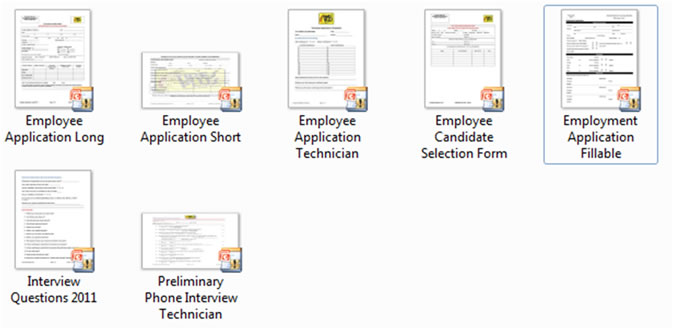 Employee Handbook of Policy and Procedure
---
Does your shop lack structure, organization, or consistent operating guidelines or policies? Our extremely popular employee handbook, again designed specifically for the automotive repair shop can assist in all those areas and much more.

Regulatory Compliance
---
Compliance. It brings up images of being told what to do and how to do it! And yet how many repair shops have found themselves in a sticky situation because they didn't adhere to State and Federal guidelines mandating compliance in virtually every aspect of business operations? Don't let that be you!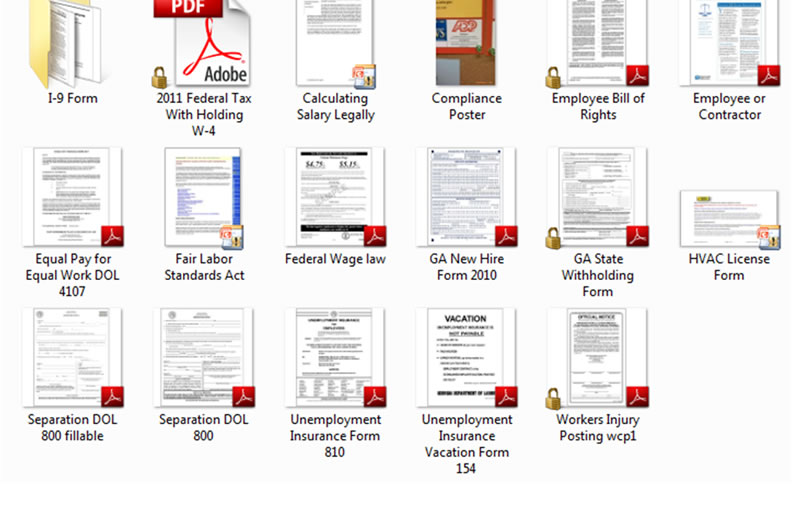 Accidents and Injuries
---
The time to prepare for the inevitable accident or injury is before it happens. Know how to properly document these occurences, and know who to contact in case of emergency.

Time Keeping, Billable Hour Tracking, and Work Schedules
---
Accurate timekeeping is not only smart, but in most cases is required by law. If the statement is true that approximately 50% of your gross sales are labor, then it makes perfect sense to track it. Like a hawk. Some of these forms are designed for office use, and some are for the technician to track his own labor as well.
Posted work schedules are necessary as you bring on additional employees, and for documenting vacations, Dr./Dentist appointments, and needed time off. In larger operations with upward of 10+ employees, having adequate coverage in every area is mandatory, such as with Service Consultants, or Techs who perform only alignments, etc.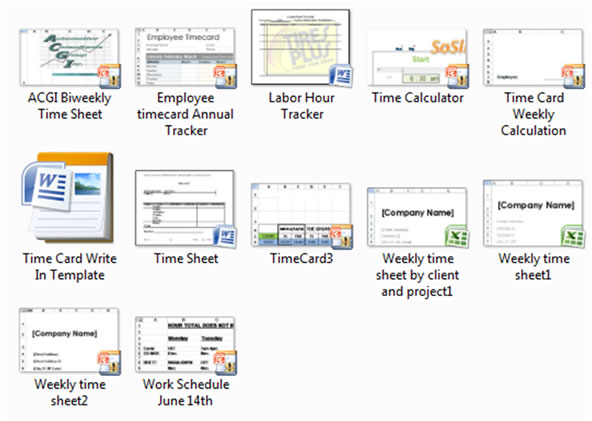 Employee Performance Review & Evaluation
---
The job descriptions as listed in our package clearly provide guidelines for the duties, responsibilities, and performance measurements that your employees must maintain, at minimum. How well they are performing against these criteria is the purpose for performing reviews. Most employees will strive to attain their goals if they know not only what they are, but how they are measured.

Compensation Plans
---
How does the smart repair shop owner decide what positions should pay what? NOT by comparing rates around town, but rather from desired gross profit margins on labor as well as required production levels. This holds true with Service Advisors/Consultants, who have separate compensation goals and plans listed below. ACGI holds the view that the more educated/trained your technicians are, the greater their accuracy in diagnosis and repair, and production increases will be the by-product. Why not give them incentive to work toward these goals?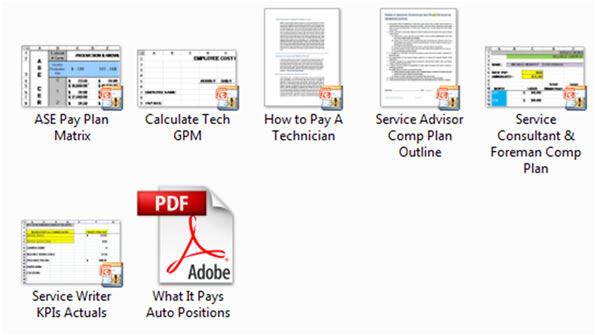 Payroll & Tax Withholding
---
The proper documentation to capture and report hours worked (hourly pay), salaries, or Flat Rate Hours produced (FRH – commission) is essential. These forms will help you to do just that. They especially simplify record-keeping those employees paid out on some form of commission.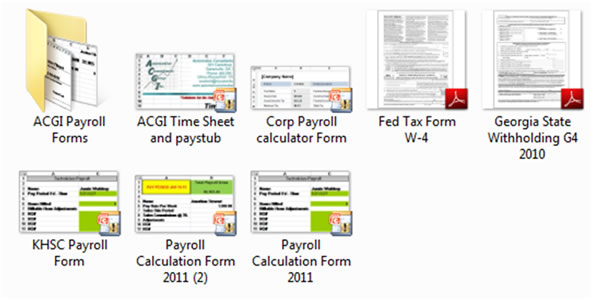 Employee Exit
---
There will come a day when all good things must come to an end. When your team member decides to leave your employ, or should you make this decision for him/her, properly documented terminations will result in reduced anguish and headaches. In the unfortunate but very real circumstance where an employee is unwillingly terminated, there are some strict guidelines to ensure that the process is handled and documented as required by your State Department of Labor. Additional documents are listed within COMPLIANCE (above).