How to Hit Your KPIs One-by-One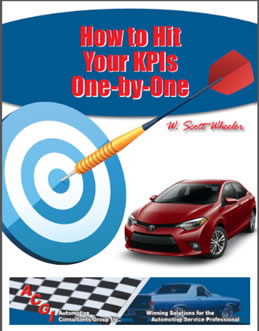 An understanding of the KPI's, or Key Performance Indicators, which speak volumes to the astute business owner, begins with an understanding of the dynamic and fluid numbers of which they're made. You must first have a clear vision as to the importance of hitting them. The difference of a few percentage points off your GPM, or especially a drop in your Effective Labor Rate, can mean the difference of camping in a tent, or staying in a 5-Star Hotel. This class cuts to the chase as to how to develop and achieve your goals as related to your automotive repair center by hitting your KPI's on time.
This is a hardcore class that delves deeply into Key Performance Indicators and removes any ambiguity surrounding them, including exactly what they are, which ones to track, and most importantly, supporting the activities that drive these KPIs up or down.
Course Overview:
What are KPIs – KEY PERFORMANCE INDICATORS?
Why are they of Key Importance?
What Performance do they Measure
Analogies to Other KPIs, or Metrics
Important Income Statement Benchmarks
You Can't Make a Dime of Profit if You Don't Have Sales
Profit Centers Can Be Unlimited – Profit Center Analysis
Why do Shops Charge for "Shop Supplies?"
What Other Profit Centers Do You Have?
A Final Word about Profit Centers
Gross Profit, Net Profit
Operating Expenses
What's Left Over – "Your Net"
So, Here Some Important Benchmarks for the Auto Repair Shop
Increasing Sales – Myth #1 Explained
Target Practice – How to Achieve Gross Sales Targets
You Must First Understand What You Have Before You Can Understand What You Need
Why Increasing Your Labor Rate Doesn't Accomplish Everything
Decreasing Costs – Myth #2 Explained
Controlling Your Shop Expenses
Calculating What it Costs to Put the Key in the Door
Increasing Gross Profit Margin – Why It's The Real Choice
Understanding the Labor Rate
Shop Productivity Explained
Menu Pricing and its Advantages
EffectiveLabor Rates and How to Calculate
Learn Where to Pull the KPIs From
Intended Audience:
Collision and mechanical business owners, operators, and service management.
Presentation Materials:
Power Point presentation, video, full-color workbook.
Course Length:
8 hours. Can be customized to fit particular time slots.